About
The ensemble made its debut in 2008 at the Berlin Konzerthaus, performing Bach's C major concerto (BWV 1061a) in a version for four marimbas. Both the transcription and the performance were praised for respecting Bach's original score and the spirit of historically informed performance. Since then, the Wave Quartet, placing a special emphasis on Bach and contemporary repertoire, has appeared at such venues as Salzburg's Grosses Festspielhaus (with the Mozarteum Orchestra) and the Athenaeum Bucharest (with the Romanian National Symphony Orchestra). Concerts and masterclasses have taken the Wave Quartet around both Europe and the Far East, a region where the ensemble has enjoyed great success since its early days.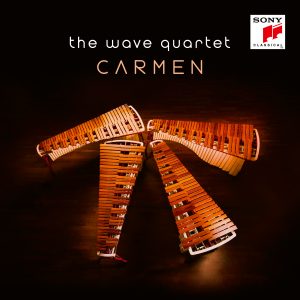 Discography
The highlights from the famous opera "Carmen" by Bizet, pop hits like Ed Sheeran's "Perfect", Sting's "Message in a Bottle" and Suzanne Vega's "Gypsy", as well as the established "Udacrep Akubrad" by Avner Dorman! This mix of opera, pop and Israeli music reflects a big musical spectrum of the Wave Quartet.
"MusekerIn am Gespréich" Remy Franck talking to Christoph Sietzen about our CD "Loco" on radio 100,7 at 6:30 De Multiperkussionist...
Read More
"Until now, the Marimba concert repertoire was limited. That will change. The Wave Quartet (Bogdan Bacanu, Christoph Sietzen, Emiko Uchiyama,...
Read More
Videos
- The Making of Bach Concertos - Michi Gaigg and The Wave Quartet talking about their cooperation and the idea of combining Bach, Marimba and Period Instruments.